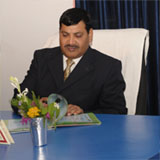 The influence of changing era in the global environment consciousness towards the technical education has great significance in building the nation synchronise with changing economic scenario. Thus professional education of standard quality is a need which can be achieved through social consciousness.
"Buddha Institute of Technology (polytechnic College)" has been established in the year 2008 at Industrial Area, Gaya on Bodhgaya Road. It is a nascent institute which is providing technical education of Diploma standard and also aspires to develop a model institute of repute under the guidance of experienced academicians & highly skilled professionals. This institute is recognized by Department of Science & Technology, Govt. of Bihar and subsequently approved by All India Council of Technical Education.
Buddha Institute of Technology, Gaya is promoted by a group of professionals & prominent social workers under auspices of "OM SAMAJ VIKASH PARISHAD" with the objective to produce an excellent level of technocrats through technical education.
VISION
To develop and promote a scientific temper and to train each person in practical science & technology to make him/her better suited to oriented environment to create willingness & capacity to work with one's hand which would promote the dignity of labor and a sprit of self – confidence.
MISSION
To provide the nation & state of Bihar with a new generation of skilled technocrats to meet the challenges of 21st century who can serve the nation & state with their advance knowledge.